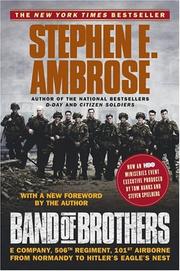 Our Greatest Generation
At the Worm Reviews we try and review new books by both established and unknown authors, however, we also review classics and older books so that others who might not have been exposed to them. One of the classic type books that I have recently read was Band of Brothers. At the same time that I read the book, I re-watched the HBO show. For those of you that have only seen the series I think I'm stating the obvious here when I say the book is better. However, not by much. Both were incredible actually. What the series did though was allow me to visually experience what I had read in Abrose's book.
Stephen Ambrose has been a favorite historian of mine for several years primarily due to his ability to take real world events and turn them into stunning works of literature. Band of Brothers tells the story of Easy Company, a group of elite paratroopers that jumped behind lines during the Normandy invasion during World War Two. Ambrose takes the reader through the Company's training up through the occupation of Hitler's Eagle's Nest.
Readers will be enthralled at the leadership of Major Dick Winters, one of the men leading this group of incredible soldiers from the time he was a Second Lt. If truth be told, it is amazing that this man's name is more well known. Reading of his actions during the Normandy invasion and subsequent actions in Carenton and Bastogne, I found myself reading mouth opened at this incredible man's bravery and leadership.
Ambrose's writing is fluid and he paints a picture of what warfare was like during the campaigns in France and Holland. He brings to life the men of Easy Company causing the reader to love, hate, and mourn them throughout the book. We hear time and time again that this was our greatest generation. This book hammers home that point. If you haven't read this story yet, do. If you've only seen the HBO series, you need to read the book as well.