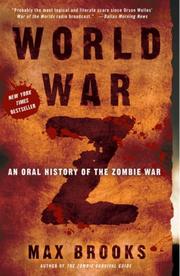 World War Z: An Oral History of the Zombie War
Seen the movie? Brat Pitt was hawt.
Toss out of your head everything you remember about the movie, even Brad Pitt.
This book is nothing like the movie in the least.
Still gripping and exciting, and way better.
The author, Max Brooks, takes us through the zombie apocalypse through interviews with people all around the world, from high profile political figures, to homeless people left to fend for themselves in a terrifying time.
Each account is beautifully written, and each 'submission' gives different takes and stances on the 'war'.
This is one of my favorite reads, as in it's not so much a straightforward story, but a collection of raw interviews that makes you feel immersed in a world gone mad, from the highest of the high to the lowest of the low in the world, all running, fearing, hiding and fighting a common enemy.